Which Car Seat Covers To Pick? – The Comparison
In a hurry? Check the bestseller top car seat covers for hot weather from Amazon. Just check the product link, the details, and the price.
Sojoy IsoTowel Car Seat Cover Breathable Cotton and Linen Fabric

Material: Polyester, Cotton, Gel
Brand: Sojoy
Vehicle Service Type: Car
Gorla Gear Black Premium Universal Fit Waterproof Stain Resistant Car Seat Cover Neoprene

Material: Nylon, Neoprene
Brand: Gorla
Vehicle Service Type: Bus, Van, Double Cab Truck, Car
Seat Covers Unlimited – Gray Universal Car Seat Cover for Truck and Car Bench Seats

Brand: Seat Covers Unlimited
Position: Front
Vehicle Service Type: Car
Are you considering upgrading the interior of your car or truck? Well, adding car seat covers is one of the best ways to keep the interior of your car in top-notch condition without having to spend a lot of money. Car seat covers can keep your brand new car seats in a pristine condition and hide the wear and tear of old car seats to enhance the look and elegance of your car's interior.
However, the truth is that car seat covers are not created equally and failure to purchase the right car seat protectors could be a waste of money as such car covers could fail to protect your car seats from elements that are likely to ruin them or enhance their tear and wear. For that reason, we did our research and settled for the best car seat covers for hot weather. At the same time, we provided a detailed buyer's guide that will help you make an informed decision before purchasing your car seat cover. Read on and rest assured to direct your hard-earned money on an auto seat cover that is worth your cash.
Top 6 Best Car Seat Covers For Hot Weather in 2022: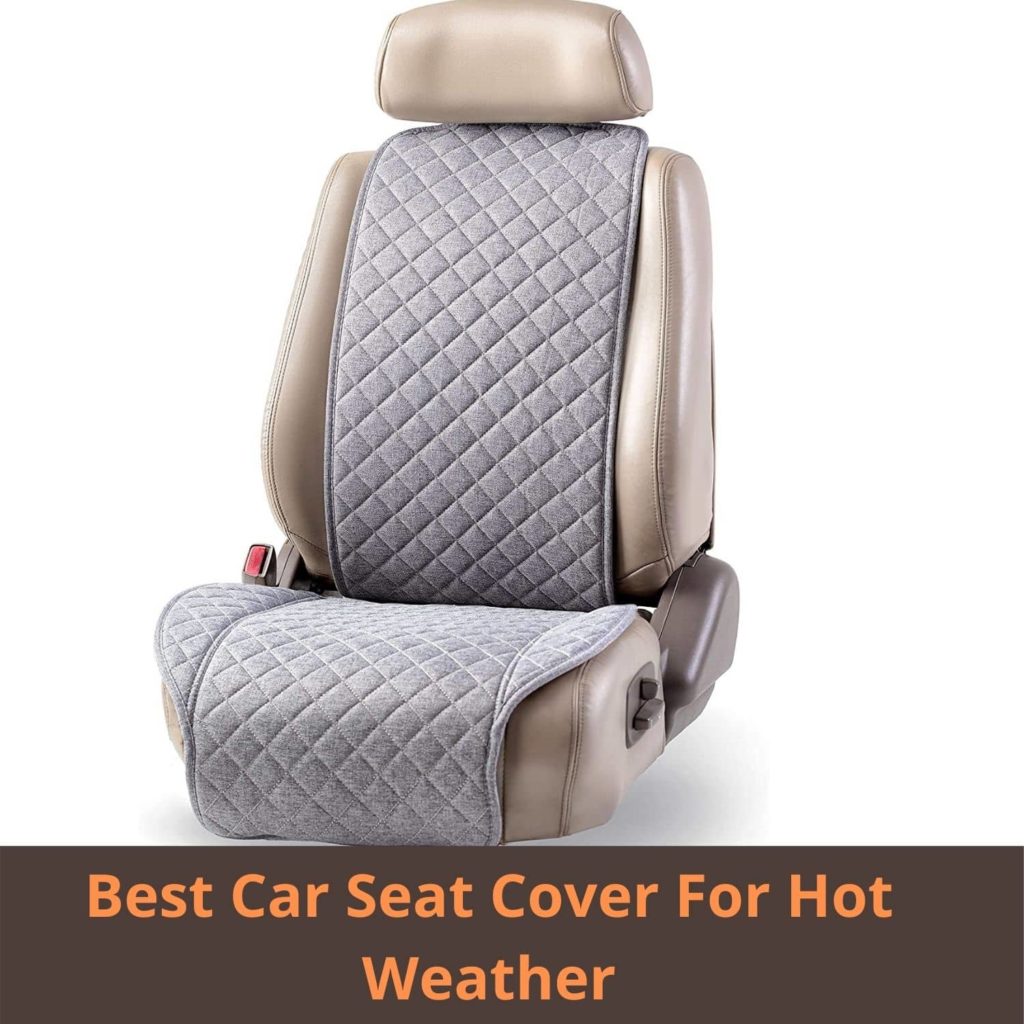 There are many factors to consider when looking for the best car seat covers for hot weather to buy, what type of car seat you will be in, and how much money you want to spend on your seat cover purchase. All of these factors can help narrow down your search as there are so many options that it is important to take the time to be specific.
Protect your car bench seats or bucket seats from pet fur, sweat after the gym, dirt, drink spills, and grime after purchasing the Gorla Gear Stain Resistant Car Seat Cover. The seat cover is made of neoprene material that provides a universal fit. Additionally, this material offers 100% protection of the car seat from water and sweat to eliminate the risk of staining. The neoprene seat cover doesn't stick when it is hot or after a workout, thanks to its material that is comfortable to sit on and highly durable.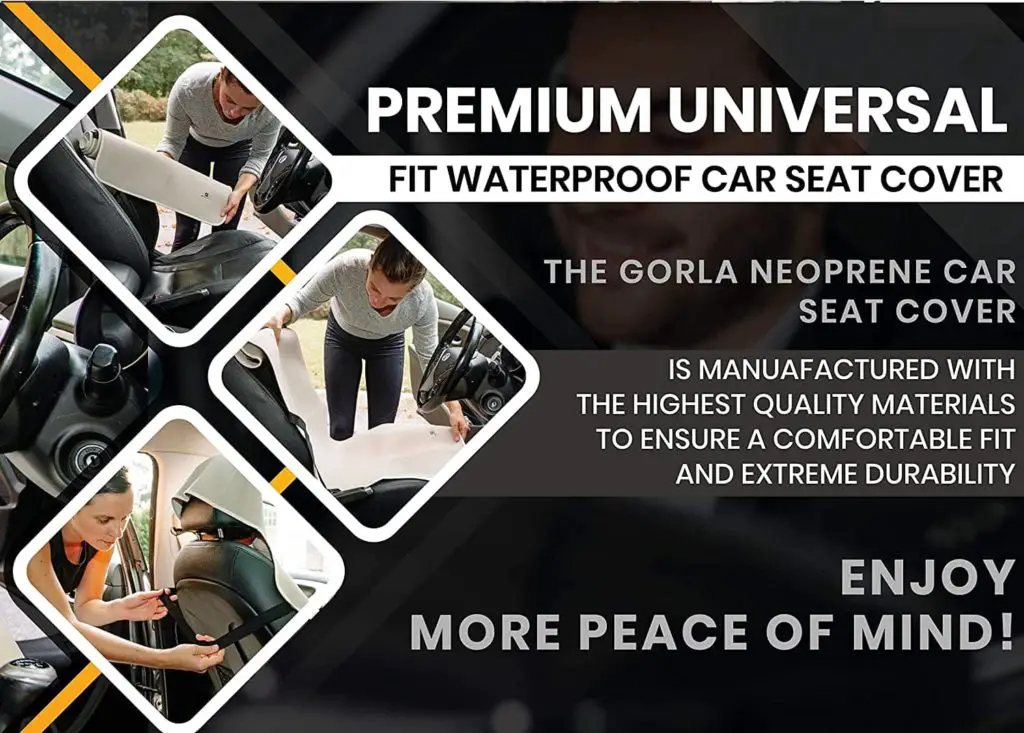 Also, the car seat cover doesn't slip and bunch like the cheap models. The reason is the anti-slip backing that enables it to stay in place. The seat cover integrates straps that hold it onto the seat further protecting it from moving or bunching while driving. As a bonus, the seat cover comes with a neoprene seat belt cover that protects your auto seat belts from sweat and water. Finally, the nylon seating surface is attached to a 3mm neoprene base meant to provide a comfortable seating surface that will not stick to the skin.
Pros
High-quality materials provide a comfortable fit and extreme durability.
The cover doesn't move around while driving.
It is easy to install.
Waterproof and sweatproof materials.
Cons
The cover features a strong chemical smell.
It takes some effort to tighten the strap while setting it up.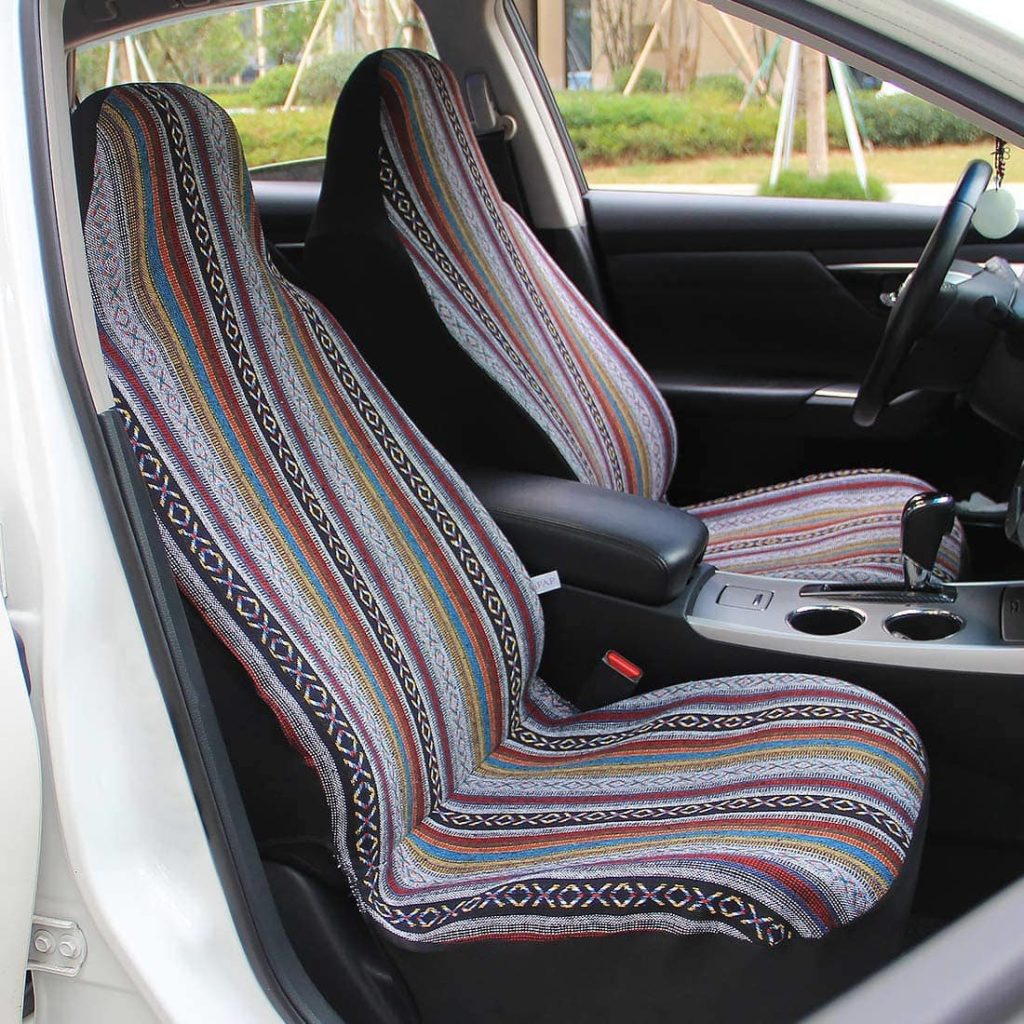 A convenient way to redecorate your old car seat or protect your new car seat lies in installing the Copap Front Seat Cover. The car seat cover is easy to install, thanks to the disc-style hook that allows you to set it easily. Also, it features a universal design. Because of this, it is compatible with most car seats, including those with built-in or adjustable headrests. The side airbag compatibility is another plus. This means that when an accident occurs, the airbag can easily protect you from harm.
The Copap Front Seat Cover comes in a package that includes two front car seat covers and two pieces of safety seat belt pad protectors. The covers are made of blanket material plus a 3mm foam padding for breathability and guaranteed comfort. Still, the seat covers highlight a colorful Baja flavor design that decorates the front seats of the car. At the back, the seat cover features a backing foam stick that keeps the cover in place to protect it from sliding off the seat.
Pros
Easy to install.
The covers do not slide around.
Universal design provides a snug fit.
Great-quality construction and elegant design.
Cons
The covers don't fit vehicles with a built-in seat belt.
The package doesn't include rear seat covers.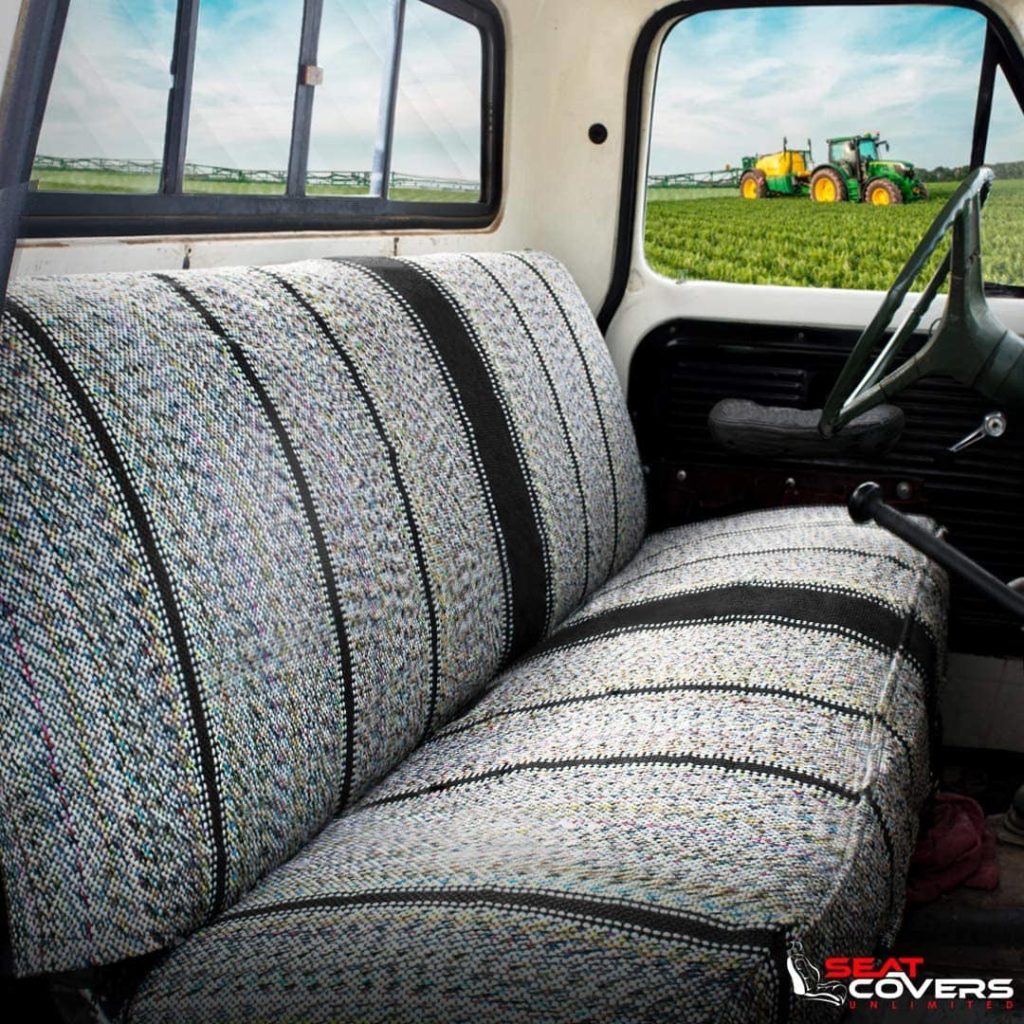 Maintain clean and stylish bench car seats after installing the Seat Covers Unlimited Car Seat Cover. It comes as a one-piece car seat cover meant for the front seat of a truck or bench seat of your car. The seat cover is easy to install, thanks to the integrated seat belt holes and easy-to-tie back straps that facilitate a fast and easy installation.
Also, it is easy to install. The reason is that it is woven from high-quality and sturdy fabric for durability and long-lasting reliability. The car seat cover includes pockets that are sewn to the front for the organization of small items. Still, it features headrest and seat belt holes that enable it to fit in most car seats. Finally, this car seat cover comes in multiple color choices making it easy to pick one that will match your style and preferences.
Pros
High-quality and thick materials are built to last.
Pockets are sewn to the front of the covers for organizing personal items.
Stylish and aesthetically pleasing design.
Available for an affordable and reasonable cost.
Cons
No instructions on how to install them.
No headrest cutouts.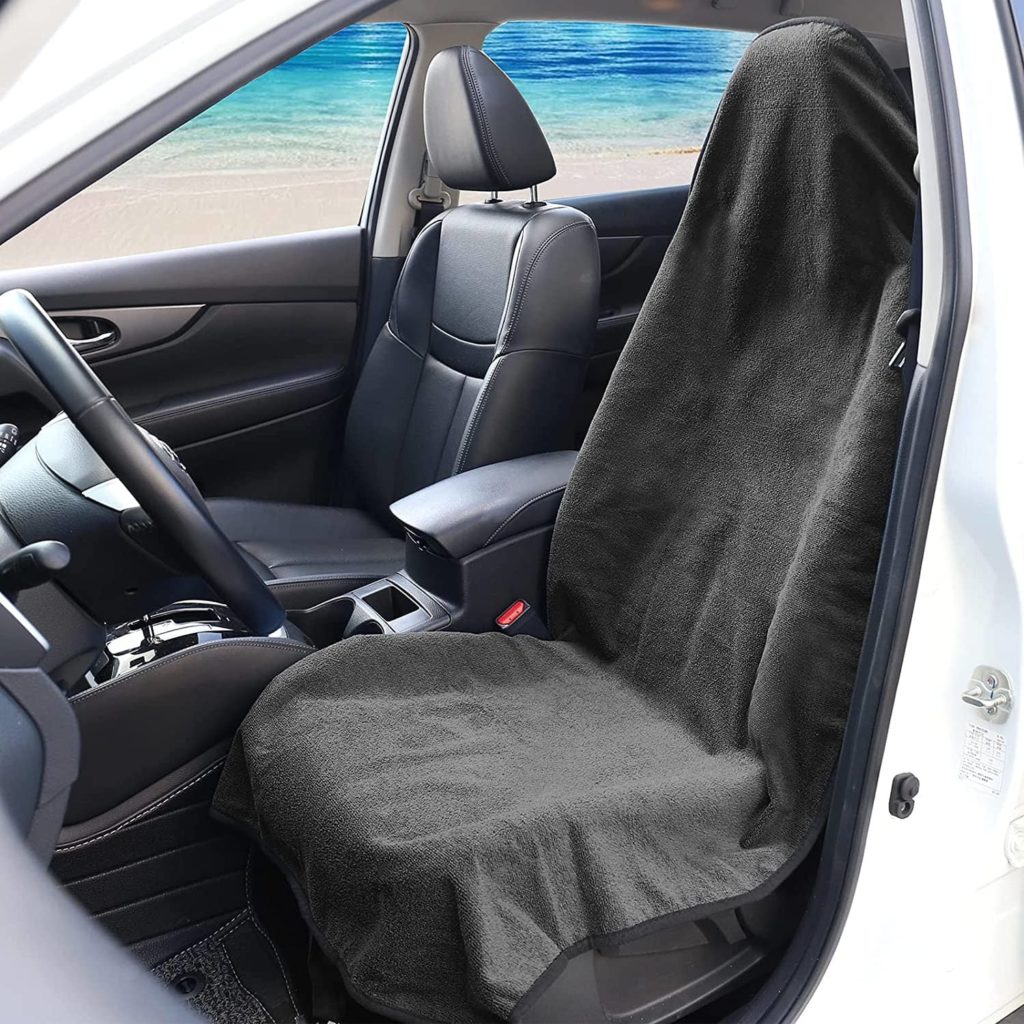 Whether you are a runner, construction worker, workout enthusiast, or car owner looking for the best car seat cover to protect your auto's seats from sweat, drink spills, pet dander, dirt, or grime, the Leader Accessories Car Seat Cover is an ideal option. This cover features 3-layer construction. On the top, there is a soft towel material that doesn't stain your seats or stick to the body for guaranteed user comfort.
In the middle layer, there is a waterproof film that prevents spills and sweat from leaking into the car seat for optimal protection. The backside features an anti-slip rubber backing that protects the car seat cover from bunching around while driving. The car seat cover is side-airbag compatible for guaranteed protection in case of accidents. You can roll it up and tie it via an elastic strap for compact storage after use. Finally, the car seat cover is easy to maintain, thanks to the machine-washable design that makes it easy to clean.
Pros
Soft, absorbent and breathable materials
The covers do not slip around the seats.
Easy to put on and take off.
Durable and comfortable materials.
Cons
No straps to hold the covers in place.
This is a non-slip car seat protector that protects the leather of your car seats to the core. It is made from a material known as Neoprene which is in form of rubber and has insulating capabilities. These variations make this seat cover the best car seat for hot weather.
This material is also waterproof meaning you will not have to worry about your car seats getting wet when in use.
This seat protector comes in three different colors of black which is the major color manufactured, gray and beige too.
Safety and Comfort –
This car seat protector is comfortable when driving as it enables your back to be comfortable due to its soft texture. The fact that it has insulating properties makes it comfortable for everyone in the car too. Safety comes in when the Neoprene seat protector prevents water from reaching the leather of your seats, qualifying it as the best car seat protector for hot weather.
Installation and use –
Installing this car seat protector can be very easy. Whether you are installing it in a car, truck or lorry, the protector can easily fit into your seat. Mind you, they can be put on and off anytime without a hitch.
General fit –
This seat protector comes in different colors but fits in any seat in whichever model of car, truck, or lorry you are driving. This aspect has enabled it to get the name "Universal fit" which is essential for the product itself just as the name suggests.
Stain protector –
The neoprene car seat protector not only protects against heat and water but also stains which can be very disturbing. You can comfortably carry pets with confidence with the surety that your car seats will remain sparkling.
The disadvantage with this protector, you will have to replace it after a while. Just like any other material used to make seat protectors, here the material will last long but eventually wear out due to use which is unavoidable. The fact that sweat is trapped in the seat protector means odor will creep in after a long time of use.
This is a great seat protector made from cotton and linen fabrics. It is made in a way that it does not slip backward while driving your car. The material used, linen fabric and cotton, allow for breathing which means no bad odor can engrave your seats.
It comes in a variety of colors like black, beige, black and white, tan, brown and carbon black.
Easy installation –
This car seat protector is easy to install making them easy to use too. You will only need to fit the protector on your car seats which will only take a few minutes. The same protector can be put off any time of the day.
Easy fit –
Sojoy Isotowel seat covers have the capability to fit in any car you drive, from trucks to sedans and SUVs, this protector proves to be universal.
Unique –
The material used on the Isotowel protector absorbs the sweat from the back and still keeps the seats dry for everyone in the car because of the breathable material. This is a capability that makes this the best car seat protector for hot weather and even all seasons.
Washable –
This seat protector can be machine washed making it easy to use. The fact that they are washable is essential for the cleanliness of your car and removal of the sweat and dirt or stains.
The greatest disadvantage of this protector is that it requires regular cleaning. The material used attracts dust and stains which must be washed regularly to keep clean. The fact that the protector is made from fabric also means it wears out quite fast.
How to choose the best car seat covers for hot weather
Remember, car seat covers are not created equally to meet the needs of different car owners, the reason you must start by determining why you want to purchase one and get a car seat cover that meets your needs. That said; let's have a look at the factors you must consider so that you can purchase a car seat cover that is ideal for your needs:
1. Material
Car seat covers are made of different materials including leather, canvas, neoprene, and velour. With this in mind, which is the ideal car seat cover material for you? Read on to find out.
Neoprene:
If you need maximum protection against debris, water damage, the sun's UV rays, dirt, liquid spills a neoprene car seat cover is worth purchasing. These covers are made from materials similar to those of scuba suits, which means that they are high-pressure, moisture, and temperature resistant. Neoprene seat covers are ideal for off-road enthusiasts, given their high-quality protection design.
Leather:
If you looking for a durable and stylish car seat cover that is easy to clean and spill-resistant, opt for a leather car seat cover. Leather doesn't absorb spills, given that most liquid sits on top of the surface. However, I would recommend leather car seat covers for those who need one for colder climates since these covers can get sticky during hotter months.
Fabric:
These are car seat covers made from polyester, velour, jacquard, and other materials. Such options are ideal for cars with heated seats or use during the summer because of the breathable construction. Also, they are more affordable compared to leather car seat covers, thus an excellent choice for car owners on a budget. However, fabric car seat covers are not the best for liquid spills, but they are stylish and comfortable.
Canvas:
This is one of the best material choices if your auto car seat cover is for use by kids and pets. The fabric features hard-wearing and long-lasting properties, which means that it can withstand frequent use and a range of elements. Canvas car seat covers can withstand unpredictable weather changes, and because of the tight-fitting design, the cover can stretch on the car seats so that there isn't unattractive bunching or wrinkling of the fabric.
2. Size and fit
The best car seat cover should provide a perfect fit for your car seat. After all, you do not want to experience rolls and bulges as a result of car seat covers that fail to provide a perfect fit. Therefore, consider the overall size of the seat cover and check to find out whether your car seats incorporate built-in screens and DVD players, airbags, headrests, or armrests, and ensure that you get a car seat cover with allowances for such accessories for the best fit.
3. Quality and durability
The best car seat cover for hot weather must be made of high-quality materials for durability. Therefore, you must consider how long the materials can last, unless if you do not mind making another car seat cover purchase soon. In most cases, opt for covers made of neoprene and leather. Neoprene is cheaper than leather but also comfortable, sporty, and water-resistant so that it can provide you with the best value for money.
4. Ease of Installation
You do not want to purchase a car seat cover that is difficult to install. For that reason, look for a car seat cover that is easy to install so that you can set it up without hiring a professional. When doing so, look for seat covers with features like straps or belts to hold the car seat cover in place. Moreover, you can read the customer reviews and get to know what previous buyers state about its ease of installation.
5. Straps quality
The best car seat cover should integrate high-quality straps. The straps should be adjustable so that they can fit perfectly without getting twisted. Opt for straps that are similar to the entire cover for a seamless look and to assure you that they are durable and of high quality.
6. Sweat, odor, and heat resistance
Remember, you are purchasing the best car seat cover for hot weather, which means that a cover that resists sweat, odor, and heat is a better purchase. Therefore, opt for seats that are made of breathable fabrics as opposed to leather for your comfort throughout the season. Additionally, the seat covers should not absorb sweat since it can result in stains that diminish the look and quality of the car seat cover.
Frequently Asked Questions (Best Car Seat Covers For Hot Weather)
Are car seat covers worth it?
Yes. A good-quality car seat cover shields your car seats from liquid spills, sun damage, body fluids, stains, cracking, and bad smells to ensure that your car seat is in good condition for years.
Can car seat covers ruin the car seats?
Yes. Failure to purchase the best car seat covers puts your car seats at risk of getting ruined. For instance, some auto seat covers could bleed their colors into the seats resulting in permanent stains that are difficult to wipe out. To avoid that, ensure that you get high-quality seat covers that will not ruin your car seats.
Which car seat covers are better for dogs? Fabric seat covers or leather seat covers?
I would recommend leather car seat covers. Remember, leather is more durable than fabric. Although pets can snag their claws in leather, it can hold better than fabric since cloth can be ripped off easily. Therefore, opt for genuine leather car seats instead of faux leather seats as these can withstand scratches better.
Is it okay to put seat covers on leather seats?
Yes. Leather seats can crack, wear and tear if not well-taken care of. Therefore, it is better to shield them from the sun's UV rays using car seat protectors to enhance their longevity.
Are car seat covers machine washable?
It depends on the material of the seat cover. For instance, most fabric car seat covers are machine washable. On the other hand, leather should be wiped using a cloth or sponge dipped in soapy water.
Final Verdict
Failure to purchase the right car seat covers could expose your auto's seats to elements such as spills, dirt, and sun damage resulting in fast wear and tear, which renders your car seat covers useless. To avoid such results by providing the maximum protection for your car seats, I would recommend using the best car seat covers for hot weather reviewed above. These covers can withstand a variety of elements and hold onto the car seats without moving around to assure you of obtaining a solution that will keep your cars in a clean and pristine condition.