Reviews of the Best Paint for Trailer in 2022. You'll have to deal with the problems that come with trailer upkeep if you don't use the best paint for trailers. Continue reading to learn how to avoid them.
In a Hurry!
POR-15 45004 Gloss black Rust Preventive Paint – 1 Quart

Professional Use
Seals Rust Permanently
Lead-Free
No Need to Remove Rust Before Applying
You can't deny the immense value of a trailer, whether you use it for camping or for business. Trailers nowadays come in a variety of designs, including powered, semi-powered, and mechanical. The majority of the time, they are towed by a truck or other power-driven vehicle.
A trailer is prone to rusting because it is largely made up of metal elements. Rust intensity and frequency are affected by how you utilize it. A trailer used for camping, for example, rusts much less than one used to transport fishing gear.
Applying a fresh coat of paint every now and then is the key to keeping your trailer looking new and healthy. This would prevent it from corrosion while also concealing many of the chips and dents that can arise over time. However, you will not achieve the optimum effects unless you use the correct sort of paint.
In this post, we'll go over all you need to know about the best trailer paint on the market to give it a long-lasting gloss and increase its durability.
Trailer Paint Types
Acrylic:
Acrylic is by far the most cost-effective and widely used type of trailer paint. They have a long lifespan and give adequate performance. You'll find that painting your trailer with high-quality acrylic paints is simple and straightforward. These have the right amount of reflection.
This sort of paint seals against water build-up and provides enough mold and algae protection for the trailer when used on the roof. Acrylic paint is an excellent choice no matter what environment you reside in. It can be used in the rain, snow, wind, and sun.
Silicone:
Silicone paints have a hefty price tag, but they also have a lot of advantages. You won't need to purchase paint primer or many layers and coats of paint if you choose this type of paint for your trailer. If your main goal is to seal, this is the most formidable type of paint.
It is extremely resistant to the elements, including the sun, wind, snow, and rain. Although silicone paint is more expensive than acrylic or urethane paint, you can rest assured that it will protect your trailer from the weather. Silicone paint is extremely reflective and elastic, and it does not become hard or brittle over time.
Urethane:
Urethane paint is more expensive than acrylic paint but less expensive than silicone paint in terms of price. The longevity of urethane paint is its key selling advantage.
It is more durable than silicone or acrylic paint because of its superior collision resistance from leaves, twigs, and other outside factors. They're also the finest option if you're dealing with ponding water.
So keep reading to learn about which paints to seek and why they're so amazing.
Here are our top 6 Best Paint For Trailer Review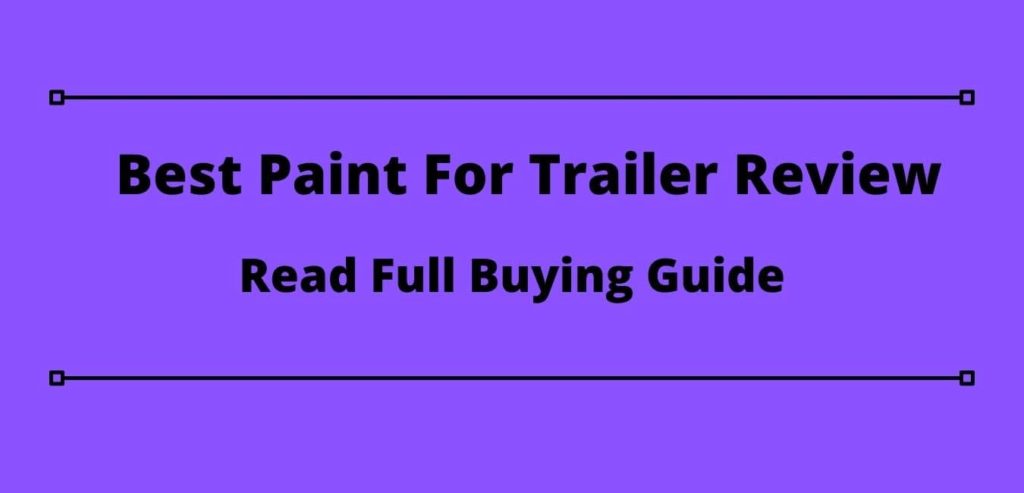 When it comes to boat trailer painting, the quality of the paint you use is one of the most significant considerations. Fortunately, this paint product can be used on metal, wood, or fiberglass surfaces above the waterline. This is already large enough to cover several hundred square feet. You only have to wait around one to two hours for it to dry.
Many boat trailer owners choose this brand primarily because it provides a highly firm and sturdy coating that performs admirably in battling potentially severe weather conditions and abrasion, and it is dependable when it comes to providing long-lasting ultraviolet protection. If you want to keep the elegance and aesthetics of your surfaces, this is the way to go.
This is unbeatable for the price. It's inexpensive, but it's the correct choice if you want a smooth finish with a long-lasting sheen. Its oil-based formulation makes brushing more easier, and the paint may be applied with exceptional leveling.
Pros
Capable of delivering a smooth finish with long-lasting shine.
In less than 1 to 2 hours, it dries completely.
With superb leveling, it can be applied with ease.
Ensures a durable covering that resists abrasion and adverse weather conditions.
Because of its oil-based formulation, it can be used in a variety of ways.
Cons
It has a strong odor that may upset people with delicate senses of smell.
It is difficult to clean.
This all-purpose marine paint is one of my favorites because of its durability, adaptability, and near-complete protection.
This is what I use to prevent corrosion on my boats. This quickly became my go-to boat paint once I figured out the sweet spot for applying it and getting consistently good results. Combining it with a good primer and completing a thorough sanding is the key to having it last for more than 6 years.
Rust-Oleum told me that after sanding, I should wait an entire day before applying the next coat. Every time I use this product, I do this for all of my trailers, and I've appreciated the long-term rust, UV, and weather protection for all of the years I've relied on it for my maritime painting tasks. It also helps that it's self-leveling, as I observed the even coatings it's capable of routinely achieving before long.
It might not be as good as most gel coat products, especially when it comes to the thickness of its coats. However, as a glossy marine trailer paint, it performs admirably, especially when applied to boat hulls and trailers. I'm having trouble thinking of any brand that can compete with everything this product has to offer for the price.
Pros
Both boats and trailers benefit from this product.
Complete security
Self-leveling
If used correctly, it has been shown to last a long period.
Excellent value for money.
Cons
A strong odor
A little pricey
This mid-range paint is reasonably priced and meets my needs for protection, convenience of use, and looks.
When I apply this paint, it practically glides. It flows wonderfully and settles just as well, which is a combination I can't get enough of in my painting, especially when using a brush. This is especially true if I have to refinish trailers on a frequent basis.
Because it's oil-based, I expected it to be a little more durable. However, it only took me less than eight months to notice some peeling on one of my bunk trailers. Others I've painted are still going strong after a year, so it's not a given. Furthermore, because it's reasonably simple to apply, I won't mind making repaints with it.
It adheres well, most likely due to the flat shine. It wicks moisture away fairly effectively, therefore I'm confident in its corrosion resistance as well.
Pros
Cracking, fading, and peeling resistance
Its weather-resistant composition is based on a unique water/oil foundation.
Water and soap are all that's needed to clean it.
Application is simple, and it dries quickly.
Cons
Scratch resistance is lacking.
Packaging of average quality
The consistency is thin.
This product delivers precisely what it promises. I've used it on and off for a few of my trailers over the years. This demonstrates a positive consistency in rust protection as compared to others.
I used it for the first time on a 5-year-old pontoon trailer that had seen better days. It was practically rusted all over, and I figured if this stuff didn't work, I'd have to replace it. I was persuaded that the rust had just begun to set in because it still felt strong.
To cut a long tale short, I used this in conjunction with an automotive can of paint as a topcoat. It felt and appeared to be brand new. Despite a slight squeaky bolt issue, the trailer is still managing its regular weight restriction after more than two years of use.
I believed the brand's claim that I didn't need to remove the rust any longer. Well, it worked, thus we can safely conclude that this product is really effective. To be sure, I've tried things that appealed to the masses only to be disappointed.
That's why I'll never hesitate to use it on trailers that I frequently submerge. I admit that I don't use it as often as other paints because it's not always accessible where I live, but I'm glad I have a reliable backup plan in case rust starts to emerge on my trailers.
Pros
Resolves rust issues while also protecting against them.
Most automotive top coatings are compatible with this product.
Protection that lasts
There is no need to remove rust to achieve the best outcomes.
Cons
It is quite costly.
Could use a more suitable container.
Many newcomers to the world of boat ownership find themselves wondering how to paint a boat trailer. It is true that having one is never easy because it includes a great deal of responsibility. In fact, one of these obligations is to guarantee that you take adequate care and maintenance seriously in order for your expensive investment to last.
This is the greatest approach for getting the most out of your typical rustproofing capabilities. This is quite useful for ensuring that you get the best shield for the panel. This product is popular among boat trailer owners because it does not require heating or spraying. To complete the task, all you have to do is use a paintbrush.
Basically, you'll love this paint since it can function better for longer, providing boat trailer owners with the most rust-resistant cover possible. This method is effective at neutralizing and removing rust with minimal effort.
Pros
It does a fantastic job of permanently sealing rust.
Produced without the presence of any lead.
When it comes to metal substrates, it's a cinch.
It is not necessary to remove rust before painting.
Designed specifically for professional use
Cons
Only suitable for use on metal substrates.
It's a little difficult to open the can.
Another dependable alternative from a tried-and-true brand, this one provides excellent rust protection while maintaining Rust-legendary Oleum's lifespan.
Every time I use this, I employ the logic that whatever paint stops undersea hulls from rusting will undoubtedly do the same for trailers. I put boats on trailers all of the time, and there are times when I can't afford to dry the hull below the waterline before storing it. Any rust concerns I could have about that are taken care of by this antifouling paint.
Given the high level of security, I have no concerns about having to submerge a large amount of the bunks when launching my vessels. It also doesn't come off easily if it comes into contact with the hull or anything else that could cause bodily harm. This has happened to me several times, but the paint has held up, making this a recommended galvanized paint for trailers.
When I'm out on the water alone, I sometimes leave my float-on trailers unprotected from the sun. I've only left it in direct sunshine for 6 hours, and the trailer it was painted on is still as robust and gorgeous as it was when I initially applied it.
The 4 hours it takes to dry is ideal for me — not too fast, not too slow. To achieve the best results, you'll need to pay attention to the weather in your area. Overall, it's not difficult to handle and apply because I used mineral oil to thin it out. I usually apply three coats with a standard 3" brush and am happy with the results.
Pros
Rust protection that is second to none
UV protection is excellent.
Excellent adherence
It takes four hours for it to dry.
Simple to use and manage
Cons
Dented cans are not uncommon.
Buying Guide
Before we go any further, let's have a look at some of the most important variables to consider before purchasing paint for your trailer. Understanding these characteristics is critical since they determine your long-term pleasure with your purchase. The last thing you want to go through is buyer's remorse.
So, without further ado, here are some things to think about before you go out and buy the best utility trailer paint.
Color Harmony
Most individuals consider painting to be an aesthetic rather than a protective element, according to statistics. If that's the case, spending some time deciding on the proper color for your trailer doesn't seem unreasonable. You should select a color that complements the primary car that will tow the utility trailer.
It may not appear to be the most vital item in the world, especially if your only purpose is to keep the weather out of your trailer. Having others complement your trailer's appearance, on the other hand, is a nice feeling you don't want to miss. Your trailer will not only be safe, but it will also look excellent, thanks to the matching colors.
Period of Curation
If you're working on a tight schedule, go for paint with a short curing period. It takes at least a day for trailer cart paint to dry completely. Some market possibilities, on the other hand, can completely dry up in a matter of hours.
In the end, it boils down to how much time you have to give the paint to settle properly. Getting a fast-acting color may be the sole option for folks searching for a speedy paint job. If you have time on your hands, though, this may not be the most important consideration.
Finishing Options
You may get a variety of finishes from your paint these days. There are no good or poor options here; it all depends on the owner's preferences. However, before deciding on a specific sort of finish, you need to have a clear understanding of the many alternatives.
Matte, semi-gloss, and gloss are the three most popular possibilities, and you can typically find examples of these designs if you search the internet. If you choose a glossy finish, you must decide whether you want it to be high-gloss or low-gloss. Whatever option you choose, make sure you look into all of your possibilities first.
Strength of Bonding
What factors influence the longevity of the paint you use on your trailer? It is, in reality, the paint's bonding strength to the trailer's surface. It not only increases the longevity of the metal parts but also protects them against corrosion and rust. That's why you'll want to choose a paint that has a high bonding strength.
Remember that paint is more than a coating; it must correctly adhere to the trailer's surface in order to form a long-lasting bond. After a few months, you don't want the paint to start peeling off. It's wise to ask someone who knows something about a product you're thinking about buying about its bonding strength.
Quantity of paint
Do you want just enough paint for a single trailer or a little more? Before you buy a little can of paint, think about it carefully. If you have leftover paint and can keep it safely stored, you can use it to repaint your trailer when it begins to show signs of wear Furthermore, if you rent out trailers for a living, purchasing a significant quantity of paint is an excellent idea.
Rust and UV Resistance
It is natural for the paint to begin to wear out after a given amount of time, regardless of the grade of the paint you are using. However, if you want the paint to last a long time, you should make sure it is resistant to corrosion and UV rays. You'll need all the protection you can get because your trailer will be outside most of the time.
Environmental Sustainability and VOC Compliance
There was a time when trailer paints contained poisonous compounds that were hazardous to your health and the environment. Thankfully, those days are over, and we now have access to environmentally friendly paints that do not create hazardous fumes or hurt the body.
Toxic paints, on the other hand, are still available, and unless you're careful, you could end up with one. Check the paint's specifications to verify if it's VOC compliant before you buy it. Volatile Organic Compounds (VOCs) are a type of chemical that you don't want to find in your paint.
Best Paint For Trailer Review (FAQs)
Is it better to paint a trailer than to use a powder coat?
Answer: Painting is not the same as applying a powder coat. While paint adheres to the trailer in its liquid form, a powder coat is essentially plastic dust that adheres to the surface after being baked.
A powder coat is a superior option if you want long-lasting durability and ease of application. Paints, on the other hand, have the same lifespan if a 2-part epoxy primer is used before the paint.
Exactly What is Primer, and Do I Require It?
Answer: Primer is a sort of undercoat that is applied to a specified surface before adding paint. Whether you need to use it or not is determined by a number of circumstances, including the type of surface you're working with and the paint you're using.
When it comes to trailer paints, there are those that are designated "direct-to-metal." You don't need to use a primer with these paints because they make a strong bind with metal without prior preparation.
In most circumstances, however, it is a good idea to apply primer before painting because it offers the best bonding strength and long-term performance for the paint.
How Long Does It Take To Get A Cure?
Answer: Cure time refers to the amount of time it takes for paints to achieve the best adhesion and viscosity at a given temperature. The connection between the paint and the substrate will be weak if the paint is not given enough time to dry. This has a direct impact on the paint's endurance.
Is It Possible To Use The Same Trailer Paint On Different Surfaces?
Answer: Yes, there are a few kinds of paint that may be used on wood, concrete, brick, and other surfaces in addition to the metal portions of the trailer. They both serve the same purpose of preventing rust and corrosion on these surfaces.
Many of these paints can be used to protect patio furniture against rust. Some can be used to give stainless steel a lovely gloss.
What Is The Purpose Of A Primer?
Answer: If the trailer's surface is not smooth and clean, a primer will prepare it for painting. Without the primer, the paint will not adhere to the surface, wasting your time, money, and effort.
Final Thoughts
Regular trailer maintenance is necessary to guarantee that it lasts a long time and does not fail when used in a variety of weather and terrain conditions. Because your trailer carries a lot of weight and may travel through tough terrain, it's natural for rust and scratch marks to emerge. As a result, you'll see chips and flakes, as well as faded paint. Your trailer will begin to age and appear to be on its last legs.

Your beast of burden, on the other hand, can regain its good looks and condition with the best trailer paint. This will substantially benefit your business as well as your daily tasks on the farm or at the building site. The appropriate paint may do wonders to restore your trailer if you follow some basic preparation steps.