Do you want to get the greatest truck bed bike rack on the market? You've come to the correct place. Check out the Top 6 Best Truck Bike Bed Rack Reviews to see what you'll need.
AA-Racks Model APX2503 Low Profile Heavy Duty Aluminum Truck Bed Rack for Trucks

No drilling required
Low-profile utility rack
fit a variety of full-size pickup trucks
Thule Bed-Rider Bike Rack

Aluminum telescoping bar
Will Not work on trucks with over the rail bed liners
Lockable skewer with single-side adjustment
Thousands of dollars have been invested in the bikes of serious road and mountain cyclists, so the idea of simply throwing them into a pickup bed is revolting. This is where a truck bed bike rack comes into play.
So you're sick of seeing your bikes get beaten up every time you load them into the back of your pickup to go to the trailhead.
It's time to invest in a truck bed bike mount to secure your bike.
But how do you know which bike mount is best for your truck bed?
Are there any mounts that will protect your bike from theft?
Which mounts allow you to transport more than two bicycles?
Are there any mounts that can be easily put and removed?
So many inquiries. But don't be concerned.
I'll walk you through the process of converting your truck bed into a stylish bike carrier in this article. In our buyer's guide, I'll go through each one in-depth.
Top 6 Picks for the Best Truck Bed Bike Rack (Review) in 2022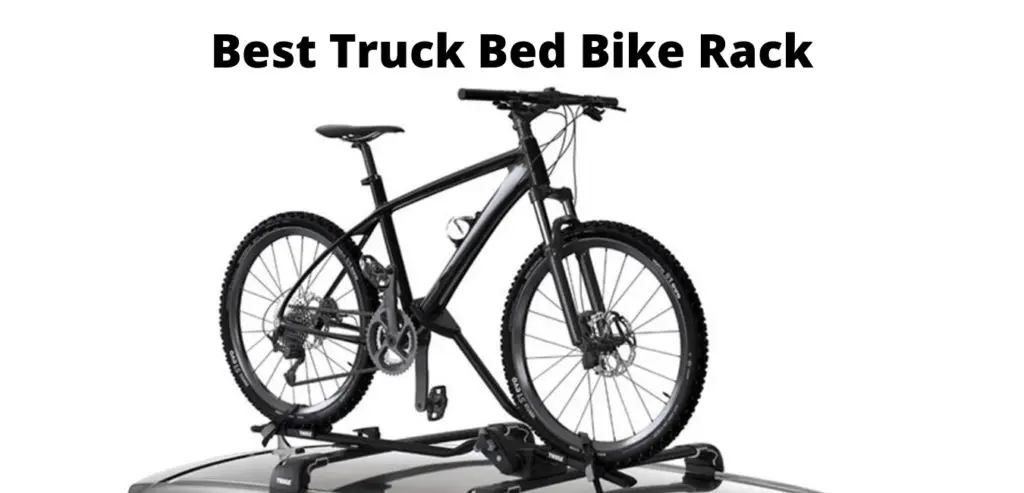 Which Bike Racks Are Best?
Below I had made a list of some of the most popular Bike Racks in the market. These do well in different vehicles and range in price. It should be noted that they are not in order of our preference, as only you can make a decision on which rack best suits your truck bed.
Main Feature:
The function and design are elegant and simple.
Installation is simple and requires no tools.
With the One-Key system lock, the security is lockable.
Allows for the use of additional bike racks.
When it comes to truck and car racks, the Thule Insta-Gater Bike Carrier is a respected name. This truck bed bike carrier is stylish, well-made, and has an original design that takes advantage of your truck bed's distinctive features, such as the bottom hinge tailgate and flat cargo floor.
It has clips that slide easily through the gap between the bed floor and tailgate when the tailgate is open and lock in place when the tailgate is closed. To construct a secure mount, simply tie the clips together with webbing. And, because this is such a tiny arrangement, you can place up to three racks side by side in a full-size pickup.
You can attach your bike by placing the front wheel in a chock on the bottom half of the rack and then securing it with a ratcheting grip on the upper part of the wheel. In other words, there are no rubbings or frame contact.
Main Feature:
Low-profile utility rack designed to transport bicycles.
Designed to fit a wide range of full-size pickup trucks.
There's no need to drill.
With universal mounting clamps, installation is simple.
For the price, it's a good deal. The clams' finish is beginning to deteriorate, shifting from black to metal… They fit perfectly on my 2020 GMC AT4 (which isn't a big problem for me). They store my Yakima skybox as well as the belongings of my children and wife. They've been on my truck for approximately 3000 miles and haven't given me any problems. The only issue I've seen is that the polish on the aluminum clamps is starting to deteriorate, but it's not serious enough to warrant a complaint.
It went on quickly and was really simple to assemble. To make things easier, I recommend using a ratcheting closed-end wrench. However, installation takes roughly 45 minutes. Excellent quality.
The rack appears to be solid and well-made, however, some of the black covering is already peeling away. It's the perfect height for securing my road bike racks directly above my pickup's bed, which is already crammed with toolboxes and gear.
Main Feature:
The simple locking technique is completely stress-free.
It is really light.
It can be installed without the use of bolts or drilling.
The tire is protected by rubber stabilizers.
Are you looking for a high-quality fork mount rack for your truck and are willing to pay a little more?
Then the Thule Bed Rider is for you.
Thule is one of the leading manufacturers of truck bed bike racks, and the Bed-Rider XTR is no exception. The rack is composed of aluminum and features a telescopic bar at the center. As a result, the bar is equipped with soft rubber feet that grip your pickup truck's side rails, eliminating the necessity for drilling holes.
To put it another way, it's made to go from bed rail to bed rail in the back of your car. However, keep in mind that the rack will not work with over-the-rail bed liners. In addition, three Thule One-key lock cylinders will be included with your order, allowing you to simply lock the bike to the carrier, then the carrier to the truck. Two bikes, or around 70 pounds, are the maximum load. If you purchase the Thule locking bed-rider add-on block, you can install more bikes (sold separately).
While we're talking about bikes, it's worth noting that this is a fork mount carrier. You'll have to remove the front wheel. This rack will not be able to support your bike if it has a large hub, such as 135mm. It's also worth noting that the rack isn't suitable with tandem or recumbent cycles, but it will fit most other bike types.
Main Feature:
Frame holder and wheel tray with a unique design.
Claw pads that are large and soft adjust to the frame of your bike.
The claw is protected by an extended lower jaw.
The torque limiter dial regulates the amount of force applied to the bike frame.
The Thule ProRide XT is a wonderful alternative if you don't want to remove your wheels but still want your bike to ride on the roof. Gravel, road, mountain, and cyclocross bikes will all fit well. It can also function with tires up to five inches wide with the addition of the fat bike adaptor. The clamp mechanism grips the down tube and tightens with a dial. It's compatible with a wide range of tube clamps.
Thule lists a maximum load capacity of 44 pounds; if your e-bike is lighter and you're comfortable putting it onto the roof, this rack will suffice. But keep in mind that installing a bike on top of your car with both wheels on adds a large amount of height to your vehicle, making drive-through windows and garages harmful to your beloved bike's health.
Wheel-on racks, in general, aren't the best choice for tall vehicles like pickup trucks and SUVs. However, of all the roof racks of this sort we've tried, we found this one to be the most convenient to use while standing on our tiptoes and reaching high overhead. We also propose using a tiny cloth rag to cushion the frame against the clamp. It's rubber-lined, but after traveling across the nation with a bike on this rack, our tester observed some wear marks on the frame.
Main Feature:
Quick-release skewer included for easy access.
Alloy construction is both strong and light.
Mount for a 9X100 camera. Fits a wide range of bicycles with a standard 9X100 dropout.
Defects are covered by a one-year manufacturer's warranty. Guaranteed satisfaction.
To begin with, I recognize that this was a cost-effective option. When correctly attached, the bike will not move. My bike installation and removal take a long time. After only six months in my truck's bed, the mount has developed surface rust. The bed rail is bolted to the mount. This mount, however, has no locking mechanisms. To secure the bike to my truck, I use cable locks.
With strong lightweight alloy construction, it's built to last. It's ideal for storing and transporting items. For rapid access, use the quick release. The fork mounts to a 100mm block. The block can be placed vertically or horizontally. The mount is made to be attached to any solid surface. They can be used with a 2×4 that has been trimmed to fit flush in a truck bed or a garage for storage. It doesn't come with any mounting hardware. 284-gram weight The length of the skewer is 167mm.
I've used and owned a variety of other fork mount brands, and they're all a lot easier to secure. If you're seeking a quick and inexpensive way to attach your bike, these are for you; but, I still don't feel safe mounting my bike and riding down the highway. A lock does nothing but slow down a burglar and keep a trustworthy person trustworthy. I'd buy it again.
Main Feature:
It comes fully constructed and is simple to install.
The rack is extremely light and small.
If necessary, the trunk can be opened with the rack attached.
This product was made with high-quality materials.
Side straps provide better lateral stability.
Despite its low price, this bike rack appears to be composed of good quality materials. Although it is a small rack, the carry arms are compatible with a wide range of frames and sizes, allowing you to transport everything from adult to toddler bikes. The rack's carrying capacity is around 70 pounds. It can also hold up to two bicycles.
Because the rack is sent completely assembled, it is quite simple to assemble. It's as simple as unfolding the rack and locking the pins in place. Install the top, bottom, and side straps after positioning the top rubber pads on the flat section of your truck. You're ready to load the bikes now that you've tightened and secured everything.
I like that the straps are nice and long and that if correctly tied, they don't move when you're moving. The additional side straps add to the overall solidity of this bike rack, which is a substantial increase over the previous iteration. While the rack's modest size makes me nervous, it does mean that it is small enough to stow inside your trunk when not in use. This is also the safest option because there is no way to secure the rack to the care.
Buyer's Guide for Truck Bed Bike Racks
Having truck bed bike racks is a handy and even necessary requirement. However, you can't just pick the one that appears to be the most appealing. When purchasing a bike rack, there are various factors to consider:
Budget :
The cost of a bike rack varies greatly depending on its size, style, and even manufacturer. While you want the nicest possible rack for your truck, you need also consider how much money you have available.
If you have your heart set on a rack that is beyond of your price range, think about if borrowing to buy it is truly worth it. One thing to keep in mind is that the trunk-mounted bike rack is usually the most affordable.
The other option is to put it off till you can afford it.
Remember that you'll need a rack that fits in your truck bed and securely holds your truck bed bike racks; you should be able to find one on practically any budget.
How Often Will You Use It?
This fact should be taken into account while planning your budget. If you're searching for a one-time rack, you should look for the cheapest one that will do the job. You could even find that renting or borrowing one is preferable.
If you plan to use your bike rack every weekend, though, you should purchase one that is robust. It's also worth thinking about whether you'll be leaving the rack in your truck all of the time. If you won't be, you'll need a rack that can be quickly installed and removed.
It's critical to be realistic about this step; intending to ride on a regular basis is not the same as really doing so. You may wish to buy a low-cost choice until you are convinced that you will utilize the rack on a regular basis.
The number of bicycles you own :
The majority of the bike racks for truck beds on this list may be modified to carry multiple bikes. Depending on how often you ride and who you ride with, this may be a necessary feature.
The apparent component is that you must be able to handle two bikes if you always go with a companion. But what if someone else wants to join you, or you want to spend the weekend with your family? When transporting many bikes, a hitch rack may be the best option. If you want to make sure you have adequate room for all of your bikes, you should figure out how many you'll need before you buy them.
Security :
Some of these truck bed bike racks lock into the rear of your truck for further security. This makes stealing the rack more difficult. Others merely secure the bikes to the rack, leaving the possibility of your bike and rack being stolen as a whole. There are also those that have no locking capabilities and those that have the capacity to lock your truck as well as lock your bikes in place.
When it comes to the security features of your rack, there is no right or wrong option. Your choice should be determined by how frequently you plan to leave your bikes unattended. If this happens frequently, a locking bike rack is required to avoid any problems.
Reputation :
Most, if not all, of the manufacturers on this list of the 6 best truck bed bike racks, have a good reputation. Established manufacturers are more likely to have a good reputation.
However, if you decide to go with a different style, you should look into the manufacturer's reputation. You must be confident that you are getting a high-quality item. Social media and online forums are wonderful places to receive input from real individuals who have bought the bike rack you're thinking about.
It's crucial to keep in mind that not all comments will be complimentary. Even the best firms, however, cannot guarantee that every consumer is satisfied. You can presume the manufacturer is genuine and safe to use if the majority of customers are satisfied.
Can the Rack Be Used For Other Purposes?
The majority of truck bed bike racks are made to transport bikes; hence the name! This isn't always the case, though! A rack that can be utilized for other purposes is likely to be more appealing.
This is most likely true of bar-style truck bed bike racks that secure your bed lining or rely on force to stay in place. They are, in many respects, just a support bar that can be used to keep goods in place during transit.
Consider whether you require a rack that also serves as a load holding. It will need to keep the rack in the truck. As we've already mentioned, this poses its own set of security concerns!
When Storage not to use?
They can easily be stowed in the back of your truck or in a garage corner. However, some of the other truck bed bike racks are much larger.
You'll need to think about where you'll put this rack while it's not in the truck. If you don't have enough room, this isn't the rack for you. It's not a good idea to keep it in the vehicle all the time; you'll probably need to take it out at some point. If you don't have a place to put it, you'll be disappointed!
Of course, if space is not an issue, you can skip this step!
FAQs ( Best Truck Bed Bike Rack )
1. Is a Truck Bed Bike Rack Really Necessary?
It's a good idea to acquire a truck bed rack if you plan to move your bike with your pickup truck. To begin with, a well-designed rack will safeguard your bike while you move it, as well as your truck from harm caused by an unattended bike. Not only that, but in the event of an accident, a rack can help secure your bike in your truck bed. In the event of a collision, an unlocked bike might become a lethal projectile, hurting you, your passengers, or even bystanders.
2. Is it true that all bike racks are multi-purpose?
Yes, some of them are. When in motion, the rack's bars can support and hold objects in place. There are no separate locks for objects other than your bike, however. As a result, there is a risk of having items stolen.
3. Are Bike Racks in Truck Beds Modifiable?
Yes, you could convert a three-bike truck bed bike rack to a four-bike truck bed bike rack. However, the original manufacturer of the 3-bike truck bed bike rack will not be able to assist you in the event of any damage caused by the system.
4. How Do I Determine the Right Rack Size for My Truck?
The horizontal length and height of the truck bed walls must be measured. You don't want your rack to protrude too far from the bed's perimeter. If you are unable to do so yourself, you can hire someone to do it for you at a bike rack business.
5. How Do You Clean Bike Racks In A Truck Bed?
Cleaning it is simple; all you have to do is hose it down with water and soap. To keep it from rusting, make sure it's completely dry. Make sure to get into all of the nooks and crevices, as well as around the bolts, since water trapped in these areas can lead to severe rusting.
Choosing the best truck bed bike rack might be a difficult task. There are hundreds on the market, and you don't want to have to replace them all the time! This guide will help you decide what features are most important in a bike rack before you buy one. These are the best on the market right now; there's likely to be one that matches your needs!

After that, you may feel assured that your money was properly spent. You have a bike rack that will serve you well for a long time.