For the best max advanced brakes reviews, you are at the right place. Here you will get all the information you need! Let's go over what max advanced brakes is so great.
Brakes are extremely vital for your vehicle to save you and others from accidents. The brakes provided by the makers last for a long period. But sometimes you must replace the brake rotors. When changing a brake, you might be confused about seeing a huge number of manufacturers available in the marketplace.
Among the top manufacturers, I recommend you keep your faith and trust in Max Advanced Brakes if you're concerned about safety and quality. They provide a massive range of brakes which you can select one that you like. Let's know something about the best Max Advanced Brakes Reviews:
In A Hurry?
Max Brakes Premium OE Rotors with Carbon Ceramic Pads KT178943
Max Brakes Elite XDS Rotors with Carbon Ceramic Pads KT018782
Why Choose Max Advanced Brakes?
Max advanced has been the leading supplier of brakes in Canada and North America since 2008, with tons of satisfied customers. The company is remarkable not only in its unparalleled quality but also because the cool designs do not compromise the vehicles' esthetic look.
Max advanced has a wide variety of rotors and braking pads to fit ideally to your daily driving vehicles, passenger vehicles, and light-duty SUVs/trucks.
Cast from G3000 graded iron, rotors are exceptional in their strength and balance. OEM style cooling vane configuration assists heat dissipation, automatically enhancing the rotors ' lifespan. Cross-drilled and chamfered holes in the rotors allow air circulation and reduce cracking.
Low copper to copper-free ceramic formulas of max advanced braking pads offer stable braking performance across a wide range of temperatures. Stainless steel hardware of braking pads damps the noise and reduces the stopping distance.
For further satisfaction, all max advanced products are tested before displaying them on the shelves in terms of their strength, balance, life span, quality, and a few more criteria. They meet the SAE J431 standards and are proven products you can trust without a second thought.
Are Max Advanced brakes good?
Max Advanced Brakes, a Canadian Company, is one of the top suppliers of North America that supply high-class brake parts. The Company is run and founded by vehicle enthusiasts, so Max knows what'll be the fine fit for your vehicle. The Company operates its process with a vision of providing auto markets with included safety and quality of authentic equipment to make sure increased performance and look. They've great experience in creating quality products. As an outcome, the brake parts from Max Advanced are smooth and ready to install without any modification.
Top 7 Best Max Advanced Brakes Reviews for 2022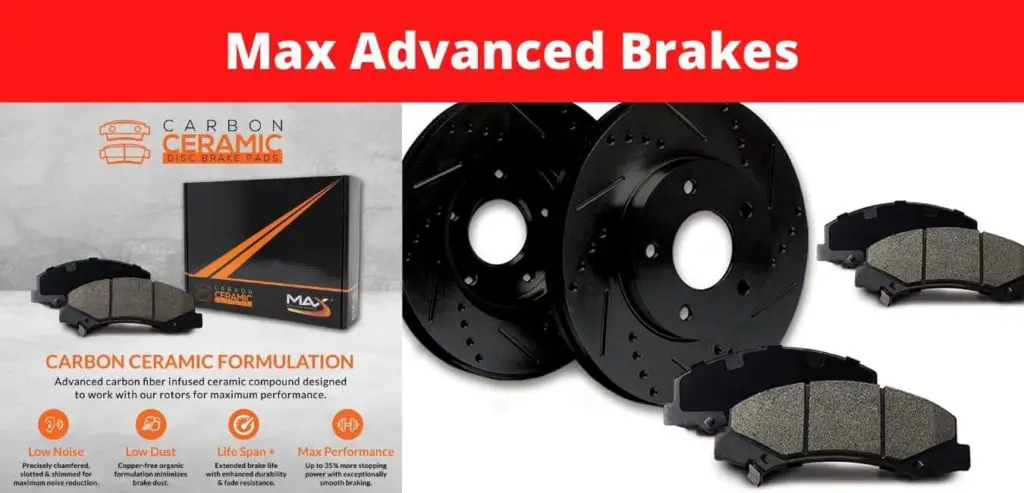 The Max Brake Rotors of the Elite XDS series are made of perfectly what the rotors of these series are made of the best G3500 grade grey iron. That is why it's elite that is what car lovers want. As an outcome, the rotors come from the XDS series come with a correct merge of toughness and strengths. If you pick this one, you're going to get the ideal break that you need. To keep them safe from the heat produced by the friction of the brake pads and rotors, it comes with 40 drilled holes every wide.
The drilled holes of the rotors import air from outside and keep the temperature low. So it remains safe from issues like unsmooth surfaces which are created by high temperatures. Therefore, you will have a smooth rotor for long life. Rust is a big problem for iron-made items. To keep things safe, you will have to pay attention to those. But in this case, Max brakes Elite XDS rotors KT062281 will decrease your maintenance tension. Just like most other models from Max Brakes, this one also has a unique anti-rust coating.
The OE product series is the most economical option of Max Brakes 3 product lines, slotted below XD and XDS. With the OE series, the premium is one of 3 options along with the Geo met OE and Elite OE brake rotors. These rotors brakes are perfect for daily driving, though they are also strong enough to stand up to additionally aggressive driving. Thanks to its strong metal construction, it is also less prone to cracking than slotted and drilled variants.
This makes it a more durable option, making it a worthwhile purchase. If you haul heavy payloads or want premium towing power, you mightn't opt for a slotted and drilled rotor, as they're more suited to this sort of driving. In addition, those in our condition might want the better drainage associated with slotted and drilled rotors. For an entry-level smooth and blank rotor, some other rotors can top the advantage of Premium OE Rotors. But those with slotted and drilled rotors as the OE options on their car might wish to stick with what they know works.
Like other Elite XDS Rotors brakes, this particular one also shares quite the same functions of perfect fitment. The company guarantees fitment for a few car models of Infiniti and Nissan and specially made to give better braking performance for every driving situation. Max brake rotor is of fine quality with rounded slots. It also features chamfered cross drill. This function uplifts the look along with offering accurate heat dissipation. Evenly heat allocation help to keep the brakes cool!
On the other side, the chamfered cross drill keeps smooth airflow and leaves the brake dust. Thus, you'll get increased braking strength. Noise while braking is forever annoying. With this model, you're sure to get a smooth and quiet brake. Due to the organic ceramic-made pad with anti-noise shim, you'll be able to avoid the sound of the brake. Durability with Max Advanced is better than any other kit. The same goes for this model. If you drive with care and keep proper maintenance, they'll last longer than normal.
If you'd like to have an impressive braking experience, the Max Brakes Premium XDS Rotors KT005631 is for you. This front brake kit, complete with OE lineup rotors and ceramic pads, is part of the premium quality XDS series. The full kit contains about 2 front rotors. In addition, the kit would also include high-quality compatible pads. With this brake rotor, you can never go wrong. Do note that rotors of this premium series are manufactured by G3000 grey iron so that it'd be able to exceed not just customer satisfaction, but also international standards.
Furthermore, if you're afraid of a rust attack on your brake rotors, then this rotor will keep you from any sort of tension. After undergoing the manufacturing procedure, the brake rotors are coating with electrolytic zinc plating so that users can ensure that there's some level of protection from either rust or corrosion. To make sure that there's a smooth break-in procedure, the company always checks and confirms that the surfaces of the brake rotors are smooth.
Pros
Cross and rounded drilled slots
Anti-rust coating decrease rust and corrosion
The sizable difference in stopping power as compared to same priced products
Cons
Black anti-rust coating rubs off with time
This is one of the Elite XDS lineup offered by Max Advanced Brakes. This kit contains 4 brake rotors (front and rear) and a matching brake pad. They name it, the best of the bests. This Max brake kit comes with fine barking performance and proven sturdiness. The disk rotors of the kits from the Elite XDS Rotors series are made of strong G3500 grade grey iron. When there's iron, there's a risk of rust. Rust is a dangerous foe of brakes.
Max Advanced has a solution. The rotors come with an Anti-Rust coating to make sure guaranteed protection from corrosion and rust. The XDS rotors are made by meeting Every OME standard. As an outcome, you can expect similar performance as the brakes that come with your automobile. You will find the slots rounded to ensure that they amplify brake pad bites. For low heat dissipation at the time of heavy braking, these are made with small countersunk holes.
Pros
Quite braking
Anti-rust coated
Increased brake performance of the vehicle
Even airflow with chamfered drilled holes
Cons
Comes only with the rear brake
Fits with a few certain vehicles
Max Brakes Elite XDS Rotors (Rear) is the top of the life product offering in the company's lineup. Though it comes with a steer price tag, that money buys the top grade of iron from Max Advanced for a long lifespan than other options. Those on a budget mightn't be able to justify paying a huge amount for the product, especially if they are extra defensive drivers. In this case, Premium XD or Premium Rotors are a better option.
Built with top-quality materials and made for spirited driving, Max Brakes Elite XDS Rotors KT020082-9 imparts the stopping power and smooth quiet operation that vehicle enthusiasts crave. But with a big price tag, thrifty do-it-yourself technicians or those with traveler cars might wish to look at more inexpensive rotors.
How to Install Max Advanced Brakes?
It's not a laborious task to install max brakes by yourself. All you need is to have the proper guidance and right tools. Grab your equipment, and you are set to go.
Keep the vehicle stable :
The first and foremost thing is to keep the vehicle stable. Park the vehicle on a smooth surface to restrict its movement. Apply the emergency brakes. Do not forget to place the wheel chocks behind the wheel you're not working on.
Take off the wheel:
Now it's time to get the wheel out. For this, first, loosen the lug nuts. Lift your vehicle through the jack stand until the tire to be removed is off of the ground. Remove the lug nut with the assistance of a wrench tool and bobs your uncle.
Remove bracket and caliper :
After eliminating the wheel, you will see a rotor with a brake bracket and caliper on one side. You'll have to take the caliper out first. If you see dust, clean those as much as possible. Then concentrate on the caliper. It's attached to the vehicle with 2 bolts.
Remove the bolts. If all is okay, the caliper will come out. Now focus on the brackets attached by 2 bolts. Remove them to take the bracket out.
Change the rotor :
Now, there's the rotor only to eliminate. Get it out by eliminating bolt or clip. If it's stuck, utilize a rubber hammer to get it out simply. Then take your max rotor and pit it in the exact place. Use the clip or bolt to keep it right. Ensure that it sits rightly.
Follow the reserving procedure :
The final step is to remove the rotor by removing its bolts or clips. If it is stuck, utilize a rubber hammer to get it out. Then take your max rotor and put it in the exact place. Use the clip or bolt to keep it right. Ensure that it fits rightly.
Follow the reserving procedure:
Follow the complete reverse procedure of what you have done. Put the bracket in its place, place the caliper, and connect it strongly with bolts. After that, set the wheel in its place and utilize the bolts to attach it firmly.
Installing MAX ADVANCED BRAKES slotted and drilled rotors LIVE!
FAQs (Max Advanced Brakes Reviews)
1. When do I've to change the brake?
If you've Max Advanced Brake installed in your vehicle, you will be getting notified simply. Max advanced brakes with wear indications. When most friction stuff has vanished, the indicator comes in touch with the brake rotor makes a squealing noise.
2. How long does Max Advanced Brake last?
The manufacturer often speaks out that their brake pads would last somewhere among thirty to seventy thousand miles. Gladly, max brake rotors can last quite a long. Nonetheless, brake unit maintenance, driving conditions, and several other factors do affect the lifespan of the brake pads.
3. Can we swap our solid rotors with max advanced brake rotors?
No, you cannot replace the vented max advanced brake rotors with your solid rotors because they are not interchangeable. If you are desperate enough to install solid rotors, then the only thing you can do is purchase new calipers, braking pads, brackets, and bolts designed for solid rotors.
4. Does max brake rust?
Metal, Galvanized iron, and steel simply come in touch with rust. But with this particular company, you can certain that every part of the brakes is anti-rust. Therefore, the materials of this company are protected from fast rust and corrosion.
5. Are Max brakes better than the Power Stop series?
Certainly, there're dissimilarities of performances, features, and services provided by both of the companies. Both stand out with their qualities and are often considered as an alternative brand to each other.
Max advanced brakes is a well-known brake manufacturer that provides you with several high-class brakes. The brakes offered by the Max Advanced are there to assuring your safety and enhancing your braking experience.

I've personally used a braking kit from the Max Elite XDS series and I was completely satisfied with the performance. That is why I recommend you to use it. Hope you'll find the max advanced brakes reviews useful and quality for your vehicle.